Le Pass New York Explorateur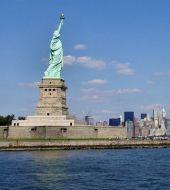 Explorez New York avec le New York Pass vous garantit économie et flexibilité.
Économisez jusqu'à 45% du prix de vente. Incluant l'entrée pour 3, 5, 7 voire 10 attractions de votre choix dans une liste des 50 meilleures attractions. Appréciez le fait de pouvoir choisir vos propres attractions quand vous arrivez à New York City et vous avez 30 jours pour utiliser votre pass. Attractions incluent le tour Hop on Hop off bus, la Statue de la Liberté, Ellis Island, l'Empire State Building, Top of the Rock, the MET et tant d'autres encore. Vous apprécierez de pouvoir sauter la file d'attente à plusieurs super attractions.
Économisez jusqu'à 45% grâce aux offres spéciales.
Gagnez du temps, entrez aux attractions en mode VIP.
Flexibilité Faites votre propre programme avec une liste de 50 choix possibles.
Liberté Allez à votre proper rythme, pass est valable 30 jours.
À votre disposition : Guide de voyage gratuit et carte disponibles dans 5 langues.
Le New York Pass est votre accès garanti à plus 70 attractions tels que: le Empire State Building, le Statue of Liberty, le New York Skyride, Madame Tussaud's, le Circle Line River Cruise, le Guggenheim Museum, le Museum of Modern Art, le Rockefeller Center tour, le NBC Studio tours, le Food on Foot tours, the Top of the Rock Observation Deck, le Wall St. Walks, les croisières pour visiter la ville et tant d'autres encore. Visitez autant d'attractions que vous voulez, plus vous en faites plus vous économisez.
Points de collecte des billets coupons : Central Park attractions; Ripleys croyez-le ou non! Times Square; Pont de Brooklyn excursions; MSG Store; Grand centre d'accueil des bus; Madame Tussauds. Trouver plus de détails (horaires d'ouverture, adresses) sur votre coupon.
Le New York Pass inclut:
Rockefeller Center Visite
Hop-On Hop-Off Big Bus New York: Hop-On Hop-Off Big Bus New York: Visite classique - Billet 1 journée.
Visite de nuit Big Bus New Yourk
Ground Zero Museum Workshop
Luna Park, Coney Island
National 9/11 Memorial Hop on Hop off Water Taxi
Circle Line Liberty Cruise
Gossip Girl Tour de On Location Tours
Alimentation On Foot Tours
New York Historical Society Museum
zoo de Central Park et Location de vélos
9/11 Tribute Center et visite guidée
Traces & Places: Harlem Walking Tours
Lincoln Center for the Performing Arts Visite guidée
Location journée complète de vélo
Bike and Roll: Central Park et le Tour Greenway
Bike and Roll NYC: Location de vélos
État de New York Botanical Garden Toutes Jardin col
Central Park Film Tour de On Location Tours
Bike and Roll: Inside Central Park Visite guidée de vélo
Pont de Brooklyn et DUMBO Quartier Visite
Brooklyn Museum et Brooklyn Botanic Garden
Bike and Roll: le pont de Brooklyn et l'Hudson River Tour
LEGOLAND Discovery Center®, Westchester
Le Shearwater classique Schooner
Circle Line Bête Ride Speedboat
L'île pleine croisière (3 heures) par Circle Line Sightseeing Cruises
Cloisters Museum (comprend l'entrée le jour même de Metropolitan Museum of Art)
The Downtown Experience
Madison Square Garden Tour Inclus Visite
Madison Square Garden: MSG Tous Access Tour
Central Park Visite: Visite du parc Central
Pont de Brooklyn Tourisme: Brooklyn Bridge Visite
Pont de Brooklyn Tourisme: Location journée complète de vélo
On Location Tours: Tour Soprano

Les tickets seront envoyés automatiquement par mail.